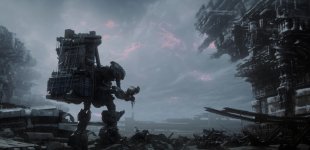 Entwickler:
From Software
Publisher:
Bandai Namco
System:
PC, PS5, PS4, Xbox Series & Xbox One
Release:
2023
A mysterious new substance was discovered on the remote planet, Rubicon 3. As an energy source, this substance was expected to dramatically advance humanity's technological and communications capabilities. Instead, this substance caused a catastrophe that engulfed the planet and the surrounding stars in flames and storms, forming a Burning Star System.

Almost half a century later, the same substance resurfaced on Rubicon 3, a planet now contaminated and sealed off by the catastrophe.

Extra-terrestrial corporations and resistance groups fight over control of the substance. The player infiltrates Rubicon as an independent mercenary and finds themself in a struggle over the substance with the corporations and other factions.
Der original Leak:
I've seen a few videos like this where they're seemingly able to go beyond the limits of the test and Stormveil looks huge as well as wonderfully intricate and layered, the jump is going to add so many possibilities for the level design, in the legacy areas especially. *Area spoilers obviously*...
www.resetera.com
I've just finished doing a consumer survey about a new Armoured Core game with description, screenshots and two 30 second-ish videos of gameplay - the first a boss fight and the second more in-world gameplay, a snow area. The screenshots are unique ID watermarked, so probably not a good idea to post but I did screenshot the text description.

If this isn't ok to post, mods please edit this - I don't want to get anyone (including myself) in to trouble, but I was pretty amazed to be watching footage of an upcoming From Soft game randomly this morning, quite unexpected!!
The boss fight looked quite Soulsy - the long range gunfire reminded me of Virtua On, that's my frame of reference, I'm not a mech fan and haven't played any AC games. The player character in a white mech went in close to the bigger robot boss and fought with like an energy or laser sword, this looked Souls-style.

The field gameplay, the player in the same white mech seemed to be following a couple of other players in the distance (co-op?) and they were walking (flying close to the ground maybe) through a snowy area towards either a large wall or gate, this seemed Soulsy too, the vastness of the architecture, but it wasn't a castle more like a worn down metal/stone wall or gate. It was quite short.

The survey listed a choice of titles for the game, so I guess that hasn't been decided on yet. Most of them were Armoured Core: [Something] including just "Armoured Core" and both AC: 6, AC: VI, and other subtitles I can't remember, some of the choices didn't include AC in the name at all.
Zum Vergrößern anklicken....
I did screenshot them too, but they're ID watermarked so weary about posting them. The video was streaming and watermarked, so couldn't save that even if I wanted to.

The screenshots were not huge and 8 in total.
1. More snowy area, player character in the air firing down on a street with vehicles below (tanks? cars?)
2. A smoke-filled aerial shot with an enemy in the distance.
3. A darker green/grey toned area gunfire and light/fire coming from the combat everywhere.
4. Snowy area again, ground-based combat against a similar sized enemy (pvp?)
5-8: These four looked like boss fight shots:
5. A bigger humanoid mech, white/grey. Player character has red lights on their mech, on ankles, shoulders and lower back.
6. A huge, tall armoured tank boss.
7. Difficult to make out, player on right, enemy another humanoid mech on left a yellow/gold slash(?) effect I think the player is attacking the enemy with a melee attack.
8. Gunfire battle with a circular yellow effect in front of player character - blocking the gunfire with a shield or some attack? Shape and colour reminds me of the Heal effect in Dark Souls, golden circle.
Zuletzt bearbeitet: